Selected Performances:
SHIM, Klimchak & Andreew Levine
Sunday, January 19 at 6 PM
Safety Harbor Arts & Music Center (SHAMc)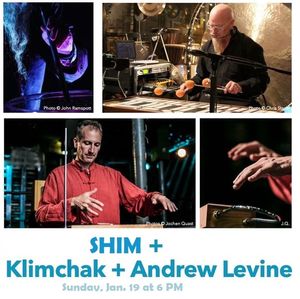 It's a concert of experimental music for the "Strong of Ear", but it will be an exceptional event including homemade instruments, hyper-instruments and TWO theremins!
Avant-jazz quintet SHIM opens with compositions by David Manson, followed by the amazing experimentalists Klimchak and Andrew Levine.  Nonprofits EMIT & SHAMc are presenting. The admission is only $5.
SHAMc is located at 706 2nd St N. in Safety Harbor, FL 34695.
New Latin Jazz with José Valentino Ruiz & David Manson
Tuesday, November 26 at 7:30 PM
The Palladium Theater Side Door

The José Valentino Trio with Bruno Miranda (piano), Jesse Pitts (drums) and José (bass) will perform original music written by José Valentino Ruiz. Following intermission, Brazilian jazz group O Som Do Jazz, with singer Andrea Moraes Manson, José Valentino Ruiz, Bruno Miranda, Kenny Walker, Jesse Pitts and David Manson will perform Manson's new Brazilian-inspired works from his recently release CD with O Som Do Jazz titled, Go!. The program ranges from funk, salsa, samba, Bossa Nova to Baião.

Dr. José Valentino Ruiz is an EMMY Award winner and Latin GRAMMY-nominated multi-instrumentalist who grew up in Tampa. He was recently appointed Assistant Professor in the new Music Business, Entrepreneurship, and Music Technology program at the University of Florida. Dr. David Manson is a founder of the MIRA (Music Industry/Recording Arts) program at St. Petersburg College and recipient of two Florida Individual Artist Fellowships in Music Composition. His original music has been placed on HBO, Fox, CW and AMC networks and performed by the Florida Orchestra. The concert is at the Palladium Theater Side Door in St. Petersburg. For tickets, see www.mypalladium.org .

Oba Brasil with François de Lima & O Som Do Jazz!
June 15 at 8 PM
Fogartyville Center in Sarasota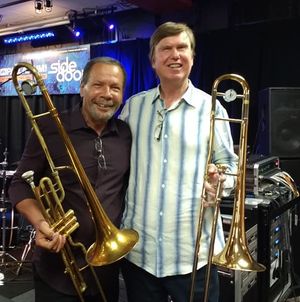 It's a show of grooving samba, Bossa Nova, Balanço and MPB with Brazilian valve trombonist François de Lima & O Som Do Jazz!

François de Lima has performed with Jorge Benjor, Ney Matogrosso, Gal Costa and Djavan, doing shows at clubs and festivals around the world. He's also recorded with Gilberto Gil, Caetano Veloso, Milton Nascimento, and performed with Leny Andrade, Leila Pinheiro, Hermeto Pascoal, Flora Purim and Airto Moreira, César Camargo Mariano, Raul de Souza, Paulo Moura, Wagner Tiso, Dominguinhos and international musicians such as Paquito D'Rivera, Randy Brecker, George Benson and Gonzalo Rubalcaba.

O Som Do Jazz features Rio de Janeiro singer Andrea Moraes Manson and a crew of skilled musicians from Brazil, Colombia and the U.S. The group has released three CDs and performed on music festivals throughout the South. Their original music has been placed in shows on HBO, Fox & BBC One. Check out their website at www.osomdojazz.com and get info at https://wslr.org/fogartyville/ Admission is $22 general and $18 for WSRL members.
Scotty Wright & the Helios Jazz Orchestra
Tuesday, September 10
7:30 PM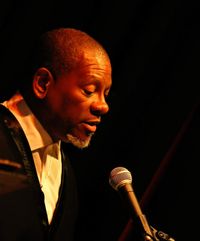 The 18-member Helios Jazz Orchestra, directed by Dr. David Manson, backs California vocalist Scotty Wright in a big band show at the Side Door. Jazz vocalist Scotty Wright is a veteran musician with over 40 years of experience. With a warm, rich-toned voice, tremendous range and relaxed delivery, Scotty possesses a unique sound that is deeply rooted in the jazz tradition. A multifaceted jazz artist, Scotty is a gifted singer, pianist, actor, teacher, and author who has traveled the world performing jazz in over 20 countries including China, Thailand, Japan, Dubai, and Jordan.
 
The program will feature great jazz gems like "One for Daddy-O" by Nat Adderly, "September in the Rain" and the premiere of a new jazz composition by director David Manson.
O Som Do jazz with Andrea Moraes Manson & José Valentino Ruiz!
Sunday, June 9
7 PM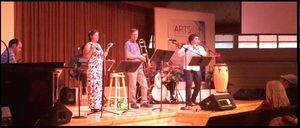 Brazilian sextet O Som Do Jazz with Rio de Janeiro singer Andrea Moraes Manson, gives a special concert of samba, Bossa Nova & MPB with Latin GRAMMY nominee and special guest, José Valentino Ruiz!

With musicians from Brazil, Colombia, Puerto Rico and the U.S., O Som Do Jazz will perform Brazilian music by Antonio Carlos Jobim, João Donato, Baden Powell, Carlos Lyra and compositions by David Manson from the new O Som Do Jazz CD, "Go!".  See the O Som Do Jazz website at www.osomdojazz.com or listen to Go! at https://store.cdbaby.com/cd/osomdojazz3 .
 
Diego Figueiredo & O Som Do Jazz
January 18
Side Door at the Palladium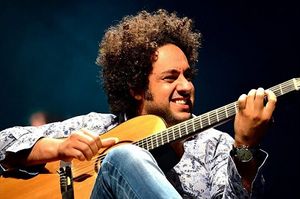 License to Thrill - Helios Plays Spy Music!
Nov. 20 at 7:30 PM
Palladium Theater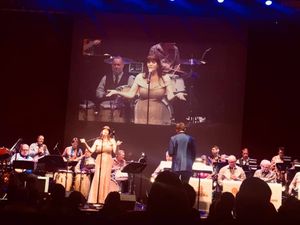 Francois de Lima & O Som Do Jazz
Palladium Theater
September 6 at 7:30 PM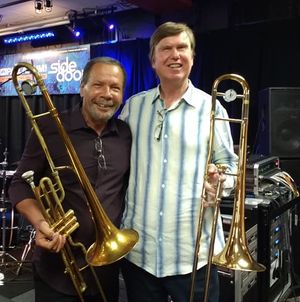 SPIFFS Folk Fair with O Som Do Jazz
Vinoy Park
October 28 & 29 at 3:30 PM

O Som Do Jazz
Marriott Sand Key
September 28

O Som Do Jazz
Iberian Rooster
July 15

SPC Jazz Profs at Cl;earwater Jazz Holiday Education fundraiser
Ruth Eckerd Hall
December 2

O Som Do Jazz
CL Space in Ybor City
November 27

Nik Sharp & the Helios Jazz Orchestra
Innisbrook Country Club
November 19

O Som Do Jazz on the Charlotte County Jazz Society
October 10

Diego Figueiredo & O Som Do Jazz
Side Door at the Palladium Theater
September 27

Jovino Santos Neto & O Som Do Jazz
Music Center at St. Petersburg College
May 22

Synia Carroll & Helios Jazz Orchestra
Side Door at the Palladium Theater
May 3

Bryan Hughes & Helios Swingtet
Arts Center Bonita Springs
April 15

Lorri Hafer & Helios Jazz Orchestra
Boca Grande "Live on the Green"
March 20

O Som Do Jazz
Arts Center Bonita Springs
January 16

Chuck Wansley & Helios
Side Door at the Palladium
December 15

Sharp Sings Sinatra
Innisbrook
November 20

Helios swingtet
The Ritz
November 14

O Som Do Jazz
Artis Naples
October 23

Rendezvous in Rio with Rio Bossa
The Coliseum
September 26

Nova Musica
SPC Music Center
September 19

Helios Jazz Orchestra & Lorri Hafer
Palladium Side Door
September 8

Workshop & performance with Karl Berger
Timucua White House
June 1

Rio Bossa
Cassariano - Venice
May 19

Rio Bossa
Cassariano - Venice
May 13

Rio Bossa
Cassariano - Venice
May 6

O Som Do Jazz
Seminole Community Library
April 22

The Real Clash
Palladium Side Door
April 19

O Som Do Jazz
Neel Performing Arts Center
April 9

O Som Do Jazz
St. Petersburg Community Library
April 7

Glorious Brass Quintet
Easter service
April 5

MIFU at Gasp!
Tampa Museum of Art
March 27

Helios Jazz Orchestra
Palladium Side Door
March 24

Warehouse District Artwalk
Electric Zoo Studio
March 8

Bright Spot VIP party at NOVA 535
February 25

St. Petersburg Jazz Festival
February 18-23
see www.stpetejazzfest.com

O Som Do Jazz
First Nght St. Petersburg
December 31

Helios
Music Center
December 10

Helios Swingtet
Tampa Museum
November 2

EMIT series
Salvador Dali Museum
November 8

O Som Do Jazz
Palladium Side Door
November 9

Helios Jazz Orchestra
SPC Music Center
November 12

FCIE Conference
September 26

Helios Jazz Orchestra
SPC Music Center
September 10

O Som do Jazz
MFA Marly Room
September 8

O Som Do Jazz
St. Petersburg Museum of Fine Arts
July 4

O Som Do Jazz
Side Door
June 20

Sunset Tiki Party
Postcard Inn
St. Petersburg Beach
June 2

Helios Jazz Orches & Bryan Hughes
NOVA 535
May 21

New College - New Music Crossroads
New College - Sarasota
March 16

Michael Lynche & Helios Jazz Orchestra
NOVA 535
October 16

Helios Jazz Orchestra
NOVA 535
September 18

 SWARM! with Walter Weirbos, David Manson & Wojtek Sawa
Salvador Dali Museum
8 PM
March 30

SWARM! Trombone Workshop
Music Center at St. Petersburg College
1-3 PM
March 31

SWARM! with Walter Weirbos, David Manson & Wojtek Sawa
White House in Orlando
April 1 at 8 PM

Inspiration - Fluid Motion pay homage to Sam Rivers
New Music - New College
Sarasota
March 2 & 3

O Som Do Jazz
February 12
Calvary Episcopal Church

Antonio Adolfo & O Som Do Jazz 
SPC Jazz Festival
January 28, 2012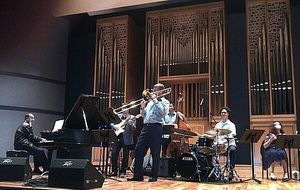 Helios Jazz Orchestra & O Som Do Jazz at NOVA 535
October 18

O Som Do Jazz & Helios at the Ybor Jazz Festival
Nov. 3 & 4




past:

Summit MIRA band at SPC Music Center
August 19 at 3 PM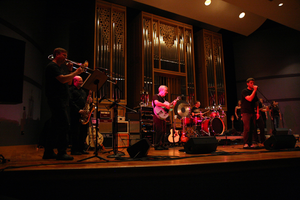 Helios Jazz Orchestra at NOVA 535
August 16 at 7 PM

O Som Do Jazz at the Palladium Side Door
August 6 at 8 PM

O Som Do Jazz at the Catherine Hickman Theatre in Gulfport
July 24 at 4 PM

Helios Jazz Orchestra at NOVA 535
July 19 at 7 PM


Midday by the Bay with O Som Do Jazz
Friday, April 22 at noon
Free concert between the Mahaffey Theater & Salvador Dali Museum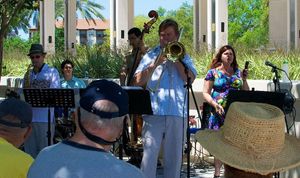 3/5/11 - Mod Miami
March 3-6

The 1st Annual 'MOD MIAMI' - 'A Swankadelic Weekend Experience For Modern Minds' located in the historic MiMo Boulevard District in Miami, with excursions to fabulous Miami Beach! O Som Do Jazz will perform on the evening of March 5.

The weekend will include spectacular nightly parties, a 'Cocktail Coach Crawl to historic properties on Miami Beach, walking tours, vendor areas and a Vintage Trunk Show, Art Show, fashion, a space-age Tiki Luau, the 'MiMo Madness' street party, and a proverbial retro variety show of great entertainment and other surprises!

Details at: http://modmiami.com .

1/11/11 Opening of the new Salvador Dali Museum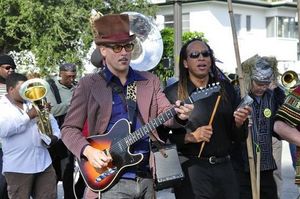 MIFU (Mobilized and Itinerant Funk Unit) Procession to the New Salvador Dali Museum
January 11 at 9:30 AM

EMIT is organizing an event for the opening of the new Salvador Dali Museum on Jan. 11. Crusty musicians, disgraced baton twirlers and color guardists are invited to participate: http://www.facebook.com/event.php?eid=168863159816472



12/14 - Helios at NOVA 535

The Helios Jazz Orchestra returns to NOVA 535 for a concert a big band jazz.


Helios Jazz Orchestra with Kevin Mahogany
Sunday, November 7 at 4 PM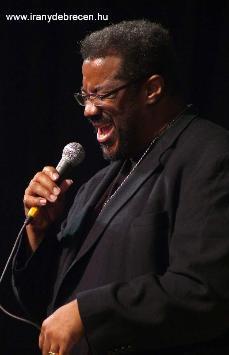 A vocal tour de force, Midwestern born singer Kevin
Mahogany burst onto the scene in the '90s and
sparked resurgence in male jazz vocals not seen
since Joe Williams, Mel Tormé, and Billy Eckstine.
With his big sound and swinging style he has
proven to be the quintessential jazz vocalist. As a
youngster he studied piano and reeds, which no
doubt later contributed to his unique phrasing, but
subsequently decided to focus on his voice
becoming a leader in the genre.

A highly demanded draw for jazz audiences
worldwide he's toured as a headliner and notably
with the "Four Brothers," a vocal super group made
up of Jon Hendricks, Mark Murphy, Kurt Elling and
himself. During his extensive career Kevin has
recorded for the Enja, Warner Brothers and Telarc
labels and his latest release, on his own Mahogany
Jazz label, features Kevin in a modern big band
setting. For this special big band performance he'll
be backed by the Helios Jazz Orchestra, ensemble-in-residence
at St. Petersburg College directed by David Manson.

see http://www.tampajazzclub.com/


Hispanic Heritage Event
Allstate Center of St. Petersburg College
Wednesday, Oct. 13 from 11:45 AM to 12:45
Free!

nightFRUIT
Saturday evening
October 16





Wojtek Sawa and David Manson collaborate in an installation project in downtown Bradenton. nightFRUIT is an interactive installation located in downtown Bradenton on Old Main Street on 12 St. West. The event is free.

The Festival sARTée expands the energy and excitement of the Ringling International Arts Festival (RIAF), Sarasota-Manatee, October 13-17, 2010. For two weeks surrounding the RIAF, the Festival sARTée, Oct. 8-24, showcases the region's world-class arts and culture ranging from theater, dance, music, visual art, live music and more in a variety of venues throughout Sarasota and Manatee Counties. For more information, see http://www.sartee.org/ .


Clearwater Jazz Holiday
Saturday, October 16
2:30 PM





The Helios Jazz Orchestra and O Som Do Jazz are both supported ensembles-in-residence with the EMIT series. They perform on the Clearwater Jazz Holiday on Saturday, October 16 starting at 2:30 PM. This free event takes places at Coachman Park in downtown Clearwater. For more information, see www.clearwaterjazz.com .


10/21/10 - From Rio to Havana
Palladium Theater Side Door
Thursday, Oct. 21 at 7:30 PM
$20 general admission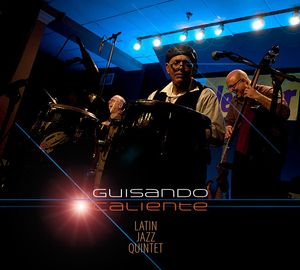 O Som Do Jazz (the sound of jazz in Portuguese) recaptures the spirit of 1960s Brazilian Bossa Nova, samba-jazz and baião. The band features Rio de Janeiro singer Andrea Moraes Manson and band members from Cuba, Columbia and the U.S. playing the great Brazilian songbook of Tom Jobim, Edu Lobo, Marcos Valle, Baden Powell and others. In her debut recording, Infinita Bossa, Andrea has caught the attention of bossa nova lovers worldwide. O Som Do Jazz includes keyboardist David Cubillo, drummer Mark Feinman, bassist Alejandro Arenas, guitarist Alfredo Rivero, trombonist David Manson and saxophonist/flutist Austin Vickrey. Guisando Caliente leans toward Cuban jazz, and features the piano of Kenny Drew, Jr. with Frankie Piniero on percussion.
For more info, see http://www.spcollege.edu/palladium/


10/3/10 - Oba Oba Bossa Nova
O Som Do Jazz at the Music Center at SPC
7:30 PM

9/28/10 - Helios Jazz Orchestra at NOVA 535

9/14/10 - Music Center at SPC
St. Petersburg, FL
Helios Jazz Orchestra & George Carroll

8/7/10 - Music Center at SPC
St. Petersburg, FL
Helios Jazz Orchestra & Denise Moore

07/24/10 - Cafe Cabana
Dunedin, FL
performance with O Som Do Jazz
free

07/09/10 -  Jazz at the MFA with O Som Do Jazz
Museum of Fine Arts
255 Beach Dr. N.E. St. Petersburg, FL 33701
Phone: 727-896-2667
http://http://www.fine-arts.org/calendar/events.php?m=6&y=2010&details=140&instance=2010-6-4
Comments: Admission is $10 for members and $15 for non-members and will include admission to galleries in the Hazel Hough wing. The new MFA Café will be open for dinner and there will be a cash bar available for beer and wine. Contact the MFA cafe at 727-896-2667 ext. 259. $10-$15

07/10/10 -  Chihuly Collection's "Carnivale of Glass" with O Som Do Jazz
400 Beach Seafood & Taphouse
400 Beach Dr. St. Petersburg, FL 33701-3072
Phone: 727-822-7872
http://http://www.400beachseafood.com/
Comments: O Som Do Jazz provides music for this is a special event sponsored by the Morean Arts Center. Contact the telephone number listed above for reservations.

07/24/10 -  O Som Do Jazz Trio at Cabana Cafe
Cabana Cafe
833 Douglas Avenue Dunedin, FL 34698
Phone: 727-712-2233
http://http://www.cabanacafeandgifts.com/
Comments: O Som Do Jazz performs as a trio with Andrea, David & Regis at this cool Dunedin cafe from 7:30 - 10:30 PM.

4/23/09 - SPC Concert Band & Chorus
soloist for Berlioz - Funeral and Triumphal Symphony
Music Center at SPC

4/20/10 - Helios Jazz Orchestra
Tuesday, April 20
Jazz in the Stacks

4/11/10 - Helios Jazz Orchestra with Belinda Womack
3 PM
Palladium Theater

3/20/10 - Brazilian Bossa Nova with Phill Fest
7 PM
South Beach Cafe
Clearwater Beach

2/4/10 - SPC Jazz Festival
Thursday, February 4
7:30 PM
Helios Jazz Orchestra with Sasha Tuck & Dale Williams
Music Center at St. Petersburg College

1/29/10 - Salvador Dali Museum
8 PM
with bassist John Lindberg (see www.emitseries.org)





2009:

ST. PETERSBURG TUBACHRISTMAS
SATURDAY, DECEMBER 12
TIME: 7:30 pm
LOCATION: Waterside Courtyard, at The Pier, (under a canopy) 800 Second Ave., NE in St. Petersburg
David Manson, conductor

Tuesday,  November 24
8 PM
Helios Jazz Orchestra
Salvador Dali Museum
St. Petersburg
featuring works by Charles Mingus, Wayne Shorter, Mario Bausa & David Manson
vocalist Sasha Tuck